Home
>
Common Article
> Benny Lewis: The man who says you can learn a language in three months
Benny Lewis: The man who says you can learn a language in three months
What do you think about learning to master a foreign language quickly? What kind of method(s) do you like to use when learning a new language? Do you think that we can learn English using the Benny Lewis' method?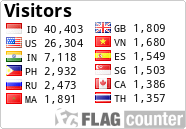 Flagcounter started counting on October 19, 2011
Press Release
Well, thanks for visiting this blog and welcome to my little blog. It is only a place for few words I can share to you (mainly) about learning English. Besides that, here I also share my experiences about everything: my interests, events, writing for newspaper, computer tips and tricks, and everything I can express with English.
If you want to share some ideas, give me some feedbacks, or just want to build a friendship, please be gladly to leave some words in comment box. If you want to put a link and or your web/blog's banner, please contact me: refinemyself@gmail.com.
Archives
Blogroll
Articles Based On The Categories
Spam Blocked
Top Clicks