HISTORY OF ENGLISH IN 10 MINUTES
Morawa in English
A look at the history of the English language without the boring bits: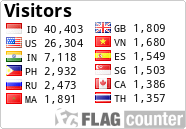 Flagcounter started counting on October 19, 2011
Press Release
Well, thanks for visiting this blog and welcome to my little blog. It is only a place for few words I can share to you (mainly) about learning English. Besides that, here I also share my experiences about everything: my interests, events, writing for newspaper, computer tips and tricks, and everything I can express with English.
If you want to share some ideas, give me some feedbacks, or just want to build a friendship, please be gladly to leave some words in comment box. If you want to put a link and or your web/blog's banner, please contact me: refinemyself@gmail.com.
Archives
Blogroll
Articles Based On The Categories
Spam Blocked
Top Clicks